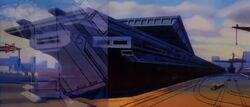 The U.S.S. Defiant is a US Navy supercarrier that was seen in The Case of the Big Boss' Master Plan.
The U.S.S. Defiant appears to be a trimaran design to improve stability on water. At the rear, it has two seperate external landing decks: the first most likley for choppers and has 4 extra pads, also in front of this deck is an aircraft elevator .The second appears to have a 5 position turntable catapult to launch VTOL/STOL and drone aircraft. The centre has a tilted landing deck and at the front the main launch area. The island appears to be very dome looking and streamlined and is seen with an array of radar antennas and 6x (3 on both sides) twin barrel close in weapons system turrets. When docked in port, various hangar decks can be seen underneath the landing deck.
What is confusing about the ship is that its sometimes seen in the dock without the trimaran outer floats, the ship traveling backwards at sea and launching aircraft in both ways.
Community content is available under
CC-BY-SA
unless otherwise noted.